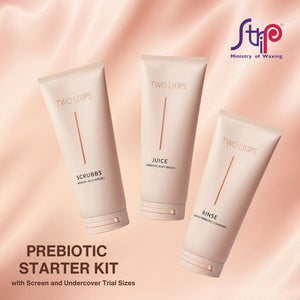 Give yourself the love you deserve with this starter set. Whether you're embarking on your skincare journey or looking to elevate your self-care ritual, this Prebiotic Set has everything you need.

This set contains:
1 x Juice (Prebiotic Body Balm) - 200ml
1 x Rinse (Gentle Prebiotic Cleanser) - 200ml
1 x Scrubbs (Konjac Jelly Scrub) - 200ml
1 x Screen (Pore Refining Sunscreen) - Trial Size
1 x Undercover (Peptide-36 Anti-Blemish Cream) - Trial Size

Made without sulphates and petrochemicals.
Gynaecologically and Dermatologically tested.
Rinse: pH value of 4.15
Gently remove any build-up of excess oil and dead skin with this Prebiotic gel cleanser. Infused with hydrating Saccharide Isomerate and gently exfoliating Lactic Acid, leave skin feeling smooth and moisturised.

Scrubbs: pH value of 5.07
An exfoliator that gently but effectively sloughs dead skin away without stripping it of its natural oils to reveal a renewed, softened and smooth complexion. Formulated with hydrating Saccharide Isomerate to strengthen the skin's barrier and restore the microbiome to its healthy, optimum state.

Juice: pH value of 5.9
A silky body balm that works to fortify the skin barrier, strengthening it against dryness, irritation or inflammation. The powerful mix of Saccharide Isomerate, Trehalose and Shea Butter locks moisture in, providing up to 72 hours of hydration.
Screen: pH value of 5.64
A sunscreen that combines the power of skincare and suncare. Contains antioxidant-rich Niacinamide to help minimize the appearance of pores and leave skin feeling smooth, as well as moisture-packed Sodium Hyaluronate for comfortable wear throughout the day.
Undercover:
Reduce pigmentation and even out your skin tone with a concentrated cream featuring Palmitoyl Hexapeptide-36.