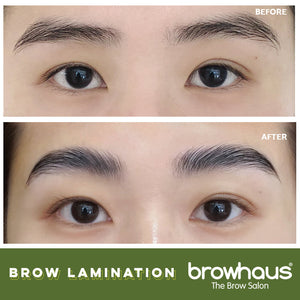 Brow Lamination is a perming treatment for your brows, one that restructures brow hairs into a set shape, for an extended period of time. The look? Full, slicked-up brows that look thicker, yet natural.

Think of this like a perm, or a brow lift — it lifts, sets, and styles your brows, with effects that last up to four weeks. Commonly seen as a non-invasive alternative to microblading, this one doesn't break into the surface of your skin, which means zero downtime

THIS PROMO CAN ONLY BE REDEEMED AT BROWHAUS MANILA BRANCHES.  VOUCHER IS FOR ONE SESSION ONLY.